In this tutorial I'll go through 5 Free and Paid Video Resizing and Cropping Software! In our other article, we went through 5 FREE Online Tools You Can Crop Videos With, including our Imvidu Video Cropper as well. But we understand not everyone wants to use an online software. Though there are clear benefits to using one:
Quickly access anywhere – including your phone
No downloads or installations required
Keep space on your device clear
Videos can be stored on the cloud
Video sharing (outputs) are easier online
Doesn't need a high performance PC
Crop videos in a click with Imvidu.
Free to get started. View plans
The downside to using an online video crop software:
You have to upload your video which can take time
You have to download your video after its rendering, which can add a bit more time
Online editors can be a little slower depending on the tool
Limited in features compared to professional video editing tools
Video Crop Software will generally let you do much more than crop your videos. So, we'll go through 7 Free and Paid Video Editing Software that let you crop your videos. So without further ado, let's begin!
# Windows Video Editor
Learn how to crop video in Windows Video Editor.
Let's start with something basic. If you use Windows, then congratulations – there is a free video editing app that's already available to you.
Simple search for 'Video Editor' in the Windows search bar, and the default app should come up. The Windows Video Editor app lets you resize your videos into landscape and portrait modes (vertical mode) and you can fit your video clip inside your landscape or portrait frames in any way you like.
If you're looking for a straight video cropper, then Windows Video Editor will let you get away with 95% of what you need. It doesn't provide multiple or custom resize options. So creating square videos or other custom sizes isn't possible.
For hobbyists and for marketers – you can actually do a lot of video content for social media using Windows Video Editor alone. It offers presets and various styles for your text and elements to give you a bit of creativity. However, it doesn't provide any advanced customization options.
Tl;Dr – Windows Video Editor app comes with Windows by default and it is free to use. It's not just a video cropper software. It offers enough capabilities to resize and crop your videos (but doesn't give you full customization options). The video editing app lets you do other basic video editing also.
Learn more about Windows Video Editor, otherwise just search for Video Editor in Windows Search bar.
# iMovie
See how to crop videos in iMovie.
Apple isn't too far behind with Windows. Macs also come with a free vide editing app that will let you resize and crop your videos. I've found that it's not as advanced as the Windows Video Editor – but if you have a Mac then you're stuck with this.
You can resize your video in landscape mode. Given videos are now consumed on mobile phones, it's really strange that iMovie doesn't let you create vertical videos.
Read: Use this hack to create a Vertical Video in iMovie.
If you're looking to crop your video clips then yes, it'll do the job – but your exported video will be in landscape mode.
Otherwise just search for it on your Mac to get started.
Crop a video. Or do more. Try text based video editing!
# Adobe Premiere Pro
See how to crop videos in Premiere Pro.
You can crop your videos in Adobe Premiere Pro, however it's just not that intuitive. Adobe Premiere Pro is for hardcore and professional video editors. It's great for hobbyists also. But if you're only doing some video editing here and there, it may be too complex and unnecessary for your needs.
But this really depends on the sort of editing that you intend on doing. It's jam-packed with features to let you create almost any video you desire. Some features are complicated to understand, however it gets easier once you figure it out.
There is a large learning curve to using Premiere Pro – so be prepared for this. You may have to sit through and watch a tonne of YouTube videos. If you intend on doing full time video editing, I suggest doing a short course, this way you'll save time in the long run.
Premiere Pro offers multiple ways to crop video, for instance:
Crop using effects
Crop with Mask
Use Opacity Mask to Crop
Use the sequence
Generate shapes and Mask
Yeah, it's a handful. Each method let's you work and produces different results based on your intention for the crop. The point for now, is that Premiere Pro will let you crop video in multiple ways, be creative with your videos, and produce almost any sort of video you desire!
Tl;Dr – A free trial is available. Otherwise you have to pay for Adobe Premiere Pro. It's packed with features to let you do any sort of editing. Video cropping is easy once you figure out how to do it.
# Davinci Resolve 17
Learn how to crop videos in Resolve 17
I'm personally a huge fan of Davinci Resolve. Yes, you can crop in Resolve, afterall, it's one of the most comprehensive video editing tools available in the market. When I say comprehensive – I mean professional film grade video editor.
So, in this case, yes it's probably overkill for your video cropping needs. But hey, if you want to learn how to use a powerful video editor, then this is a good start.
Why? Because it's free to download an older version of Davinci Resolve. You have to pay for the latest version, however the free version is jam packed with features, you most likely don't need to look anywhere else.
If you want to use a straight forward video cropper, like Premiere Pro, Davinci Resolve video editor can be a little overkill. It isn't intuitive, so you may need to sit down and spend time learning how to use it first.
Doing a basic video crop required creating projects, updating the aspect ratios (to resize your videos), then using the transform controls to crop your video or video clips. You then have to figure out how to export your videos and navigate your way around the million little options available. But if you do it once, you'll know how to do it again in the future.
The timeline let's you perform advanced functions where you can overlay text, images and videos on top of each other. So cropping individual media items like images and individual video clips is possible.
Tl;Dr – Davinci Resolve is Free to Download. It requires a good PC with enough memory and CPU to work optimally. It's jam packed with feature that even the most advanced users find it overkill!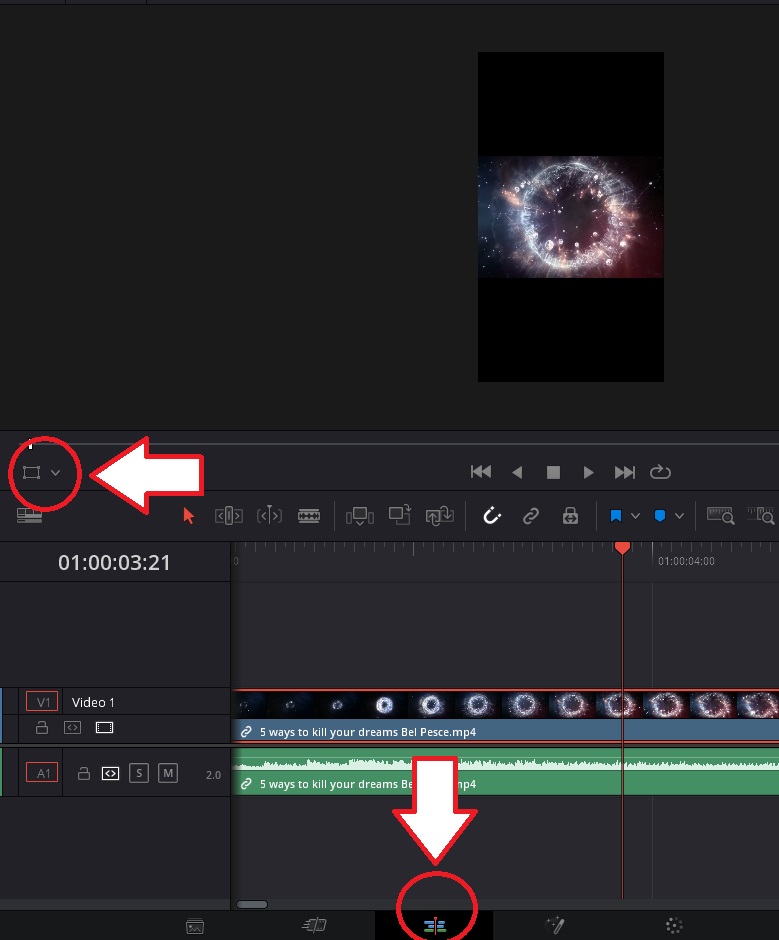 # Active Presenter
Active Presenter is a Freemium video editing software. It has a free version that will let you do a lot of video editing. You can upgrade it to unlock more features. For cropping your videos and doing basic editing (trimming, resizing, adding layers – clips, images, text), Active Presenter is more than enough.
Active Presenter feels like PowerPoint. So if you are familiar with using Microsoft products, you'll have zero problems using Active Presenter. In fact, you can create slides and edit your slides just like PowerPoint. The difference is you also have a timeline and layers panel, which lets you add your media clips.
It has its own screen and media recorder. So, if you are planning on creating software demos, then it's actually quite useful. If you want to then crop these demo tutorial videos, then you don't need to use different software to get the job done.
Tl;Dr – Active Presenter is a powerful video editing tool that feels like a video editor and PowerPoint software in one. It lets you easily resize and crop your videos. You can do a lot of video editing on the free version but feel free to upgrade if you need to unlock premium features.
# Camtasia
There are a lot of video editors that you can download and we wouldn't be able to squeeze them here. But because we're sticking with the top 5 recommended software to try, and given the popularity of talking head videos, it's only fair to mention Camtasia.
Camtasia's power comes from it's screen recording capabilities and editing these recordings. It's useful for creating and editing presentations, talking head videos, software demos and online tutorials.
Resizing and cropping is intuitive as it comes with a Device Frames feature which lets you easily set the frame sizes based on which device you want to publish your videos for.
Tl;Dr – Camtasia has a free trial option only but you can pay a one-time fee for unlimited access. It's a first class software for recording and editing presentations.